About OUr Roofing Company in Rapid City, SD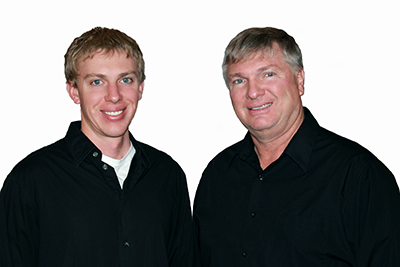 Clyde Graumann: is the owner/president of All American Roofing & Sales Inc. Since he's been installing roofs and creating solutions since back in 1982, he has experience and knowledge on how to get your roof done right the first time.
Dan Graumann: is the vice president and part owner or All American Roofing & Sales Inc. He has been working full time with his dad for 6 years now, but has been roofing for 11 years. He is on every job and does the final inspection of every roof. He is Master Installer Certified with the Spray Polyurethane Foam Alliance. He is also passionate about every roof being done as if it were his own roof.
How we got started
We would like you to know a little bit about us and how we became involved in the Conklin® Business. In 1980, a storm blew a tree branch through the metal roof of our mobile home. Knowing that tar and silver seal would be only a short-term fix we searched for a product that would be flexible and would not dry out and crack. A neighbor showed us what he had on his roof. The product was called Rapid Roof and was manufactured by the Conklin Co. Not only was the product flexible it was also white so it would reflect the heat in the summer, which would help save money on our air conditioning bill. We were sold on the new technology. In 1982, a Conklin® IBO informed us how Conklin® could become a business for us. Since we were impressed with the performance of the Rapid Roof® on our mobile home, which now was four years old and had sustained a 300 mile move, we decided to take that step of faith and own our own business. As with all new pursuits, we started out slow, mainly doing small residential roofs. By 1989 we were a prominent roofing business doing a 3200 sq ft roof that year and achieving the title (position) of Master Contractor. This is an elite position obtained through the Conklin Co. for those roofing contractors that meet certain criteria.
Today
We have now been in business for 32 years and still have roofs out there performing that we put on 20+ years ago. We are a small business that does little patch jobs all the way up to 78,000 sq ft+ roofs. We are big enough to tackle full roof installations but we are small enough to know our customers on a personal level and give them what they want and need. Our company has been honored to have the prestigious award of Master Contractor from Conklin for 20 years. We have a solution for every problem so give us a call so we can help you!
We Do
We service commercial roofer projects in rapid city, sd, industirial roofs and residential roofs. We are certified and insured so you can count on us!